our Products
---
AquaLoop Refrigeration - Establishing A Closed Water Loop
Aqualoop is Insulated Structures high efficiency solution for managing cabinets that replaces the classic layout of compressor racks and long refrigerant distribution lines, with a system based on plug-in cabinets fitted with variable-speed DC compressors and cooled using a water loop.
The system consists of a compressor for each cabinet with a common waterloop.
The benefits of the system are as follows: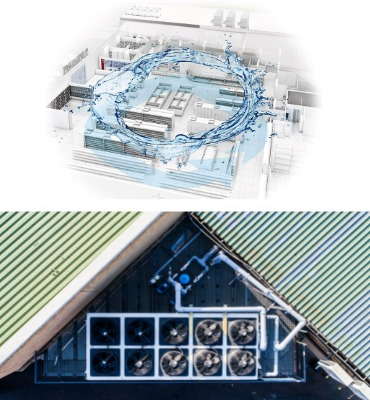 Energy Efficiency
Maximum energy efficiency at part loads is a result of continuous modulation, which moreover guarantees the best operating conditions for each unit, each independent of the others yielding up to 25% energy savings in comparison to other systems.
Excellent Food Preservation
A stable control temperature maximises both the quality of food preservation and customer satisfaction, eliminating fluctuations in product temperature.
Lower Operating and Maintenance Costs
Prevention of malfunctions and planning of maintenance using advanced preventive diagnostics algorithms, and complete monitoring of all operating conditions. A lower impact on the balance sheet due to significant energy savings.
Easy Installation
The showcases are ready to use, and simply need to be plugged in and connected to the water loop.
Other Benefits
Lower total refrigerant charge (-80%)
Less refrigerant leaks as the units are tested in the factory, with no welding needed in the field (-96%)
Solution available with natural refrigerants